आज के इस लेख में आप जानेंगे कंप्यूटिंग के क्षेत्र में होने वाले कुछ महत्वपूर्ण शब्दों के शार्ट और फुल फॉर्म. हर कंप्यूटर यूजर हमेशा चाहता है की वो कुछ न कुछ कंप्यूटर के बारे में और अधिक जानकारी प्राप्त करे. कंप्यूटर के क्षेत्र में बहुत सारे शब्दों का उसे उसके शॉर्ट फॉर्म में किया जाता है और उनका फुल फॉर्म बहुत से लोगो को नहीं पता हो पता है. इसलिए आज यहाँ पर आपके साथ शेयर किया जा रहा है कंप्यूटर से जुड़े कुछ शॉर्ट फॉर्म और उसके फुल फॉर्म जिससे कि कंप्यूटर के बारे में आपको और अधिक ज्ञान मिलेगा.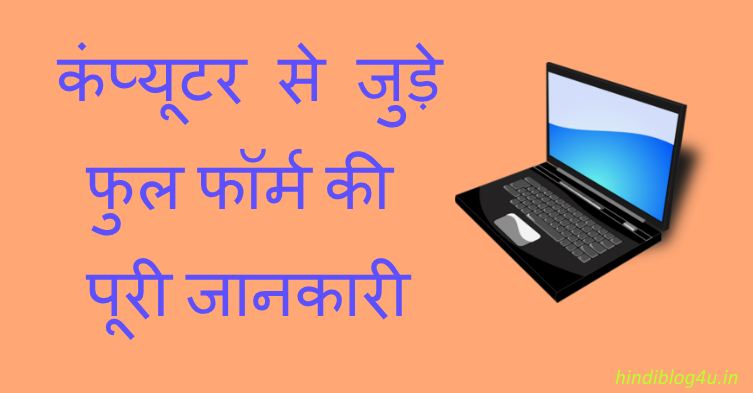 इसलिए आज Computer related short aur full form शेयर कर रहा हु जो सभी के लिए काफी लाभ होगा. तो चलिए जानते है कंप्यूटर से जुड़े शॉर्ट फॉर्म एंड उसके फुल फॉर्म.
सबसे पहले जानते है Computer ki full form,computer full form in english,computer ka full form.
COMPUTER: COMMON OPERATING MACHINE PARTICULARLY USED FOR TRADE, EDUCATION, AND RESEARCH
कंप्यूटर से जुड़े फुल फॉर्म (Computer Related Full Form)
PC : PERSONAL COMPUTER
CPU : CENTRAL PROCESSING UNIT
OS : OPERATING SYSTEM
UPS : UNINTERRUPTIBLE POWER SUPPLY
RAM : RANDOM-ACCESS MEMORY
ROM : READ-ONLY MEMORY
HDD : HARD DISK DRIVE
BIOS : BASIC INPUT/OUTPUT SYSTEM
ASCII : AMERICAN STANDARD CODE FOR INFORMATION INTERCHANGE
LCD : LIQUID CRYSTAL DISPLAY
LED : LIGHT-EMITTING DIODE
GUI : GRAPHICAL USER INTERFACE
NTFS : NEW TECHNOLOGY FILE SYSTEM
FAT : FILE ALLOCATION TABLE
DOC : DOCUMENT
TXT = TEXT
MS : MICROSOFT
SD : SECURE DIGITAL
MMC : MULTIMEDIA CARD
CD : COMPACT DISC
DVD : DIGITAL VERSATILE DISC
BRD – BD : BLU-RAY DISC
ISO : INTERNATIONAL ORGANIZATION FOR STANDARDIZATION
DB : DATABASE
IC : INTEGRATED CIRCUIT
SYS : SYSTEM
CONFIG : CONFIGURATION
CTRL : CONTROL
ALT : ALTERNATE
ESC : ESCAPE
DEL : DELETE
NUM LOCK : NUMBER LOCK
FN : FUNCTION
Prnt Scrn : PRINT SCREEN
SysRq : SYSTEM REQUEST
ScrLk : SCROLL LOCK
PgUp : PAGE UP
PgDn : PAGE DOWN
PrtSc : PRINT SCREEN
Ins : INSERT
WINXP : WINDOWS XP
WIN7 : WINDOWS 7
SP : SERVICE PACK
CMD : COMMAND
TEMP : TEMPORARY
WMP : WINDOWS MEDIA PLAYER
MP3 : MOVING PICTURE EXPERTS GROUP PHASE 3 (MPEG-3)
MP4 : MPEG LAYER 4
PDF : PORTABLE DOCUMENT FORMAT
MPEG : MOVING PICTURE EXPERTS GROUP PHASE (MPEG)
MPEG 1 : MOVING PICTURE EXPERTS GROUP PHASE 1 (MPEG-1)
MPEG 2 : MOVING PICTURE EXPERTS GROUP PHASE 2 (MPEG-2)
JPG : JOINT PHOTOGRAPHIC EXPERTS GROUP
PNG : PORTABLE NETWORK/NEW GRAPHICS
SWF : SHOCK WAVE FLASH
PDF : PORTABLE DOCUMENT FORMAT
AVI : AUDIO VIDEO INTERLEAVE
WMV : WINDOWS MEDIA VIDEO
GIF : GRAPHICS INTERCHANGE FORMAT
RGB : RED – GREEN – BLUE
CMYK : CYAN – MAGENTA – YELLOW – KEY (BLACK)
ACPI : ADVANCED CONFIGURATION AND POWER INTERFACE
APM : ADVANCED POWER MANAGEMENT
REGEDIT : REGISTRY EDITOR
PRO : PROFESSIONAL
BAT : BATCH
GPEDIT : GROUP POLICY EDITOR
OSK : ON-SCREEN KEYBOARD
COM : COMPONENT OBJECT MODEL
USB : UNIVERSAL SERIAL BUS
VDU : VISUAL DISPLAY UNIT
VGA : VIDEO GRAPHICS ARRAY
IT : INFORMATION TECHNOLOGY
NET : INTERNET
TCP : TRANSMISSION CONTROL PROTOCOL
IP : INTERNET PROTOCOL
AP : ACCESS POINT
DNS : DOMAIN NAME SYSTEM
HTTP : HYPERTEXT TRANSFER PROTOCOL
HTTPS : HYPERTEXT TRANSFER PROTOCOL SECURE
URL  : UNIFORM RESOURCE LOCATOR
HTML : HYPERTEXT MARKUP LANGUAGE
PHP : HYPERTEXT PREPROCESSOR
XML : EXTENSIBLE MARKUP LANGUAGE
CSS : CASCADING STYLE SHEETS
ASP : ACTIVE SERVER PAGES
SQL : STRUCTURED QUERY LANGUAGE
WWW : WORLD WIDE WEB
.COM : COMMERCIAL
.NET : NETWORK
.ORG : ORGANIZATION
.EDU : EDUCATIONAL
.GOV : GOVERMENTAL
.INFO : INFORMATION
.BIZ : BUSINESS
.US : UNITED STATE
.UK : UNITED KINGDOM
TLD : TOP-LEVEL DOMAIN
DL : DOWNLOAD
UL : UPLOAD
PR : PAGE RANK
SEO : SEARCH ENGINE OPTIMIZATION
CEO : CHIEF EXECUTIVE OFFICER
E-MAIL : ELECTRONIC MAIL
SMS : SHORT MESSAGE SERVICE
MMS : MULTIMEDIA MESSAGING SERVICE
PW – PASS – P.CODE – CODE : PASSWORD
AP : ALERTPAY
MB : MONEYBOOKERS
PP : PAYPAL
LR : LIBERTY RESERVE
INFO : INFORMATION
LAN : LOCAL AREA NETWORK
WAN : WIDE AREA NETWORK
WLAN : WIRELESS LOCAL AREA NETWORK
NAT : NETWORK ADDRESS TRANSLATION
UPDATE : UP-TO-DATE
IDM : INTERNET DOWNLOAD MANAGER
DAP : DOWNLOAD ACCELERATOR PLUS
KB : KILOBYTE
MB : MEGA BYTE
GB : GIGA BYTE
GiB : GIBI BYTE
TB : TERA BYTE
TiB : TEBI BYTE
PB : PETA BYTE
PiB : PEBI BYTE
EB : EXA BYTE
EiB : EXBI BYTE
ZB : ZETTA BYTE
ZiB : ZEBI BYTE
YB : YOTTA BYTE
YiB : YOBI BYTE
INTEL : INTEGRATED ELECTRONICS
HP : HEWLETT PACKARD
LG : LIFE'S GOOD
IBM : INTERNATIONAL BUSINESS MACHINES
IPV4 : INTERNET PROTOCOL VERSION 4
IPV6 : INTERNET PROTOCOL VERSION 6
WI-FI : WIRELESS FIDELITY
उम्मीद है की आपको दी गयी जानकारी पसन्द आयी होगी तो इसे अपने दोस्तों के साथ शेयर करे और उन्हें भी जानने में मदद करे. लेख से जुड़ा कोई सवाल या सुझाव हो तो कमेंट कर बताये.